Christmas Holidays in western Sicily: Guided visits to the discovery of the Nativity
Christmas Holidays in western Sicily: Guided visits to the discovery of the Nativity
Running from December 8, 2016 to January 8, 2017. Discover the spectacle, unique in the world, the Living Nativity organized in several rural centers, particularly in Custonaci and Balata di Baida. Visit Erice to discover the traditional and artistic nativity scenes widespread along the streets of the village. Taste the typical products of the Sicilian tradition, including Christmas markets and historical centers and villages of Santa Claus. Here are some good reasons to spend the Christmas holidays in Trapani, in western Sicily.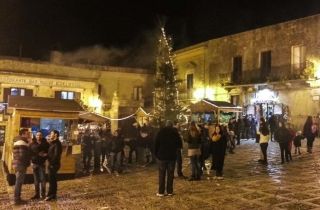 In Sicily the magical Christmas party is celebrated from all points of view. Ancient and new traditions, religious, folklore and gastronomy mixed together to make this time of the year unique.
The Sicilian table is prepared with unique dishes. Like the Cuccìa of Santa Lucia, which inaugurates the Christmas holidays, a particular dish prepared for the 13 th of December , the day of the patronal feast. The classic and famous Sicilian Cassata, which requires ingredients such as sponge cake, ricotta and sugar icing. Buccellato, nougat like cedar, obtained by cooking chopped peel of citrons and oranges together with honey, cinnamon and vanilla. I Mostaccioli or mustazzola, and then still the cakes with figs, anciently offered at the end of Christmas novenas, Cassatelle, desserts stuffed with ricotta, the Sfinci, donuts made from potato starch
With the arrival of Christmas, traditional nativity scenes are also inaugurated, a true Sicilian "passion". Over the years Western Sicily has become a sort of "leader" in this "field", gaining great visibility and interest especially as regards: the "treasures" exhibited at the Pepoli Museum of Trapani (which preserves a rich collection of cribs made of gold , silver and coral, worked out by famous sculptors such as Giovanni Matera), evocative villages such as Erice (which are transformed into "Christmas villages", among widespread cribs, pipers from all over the world, concerts and cultural events) and the famous living nativity scenes ( in particular, that of Custonaci, built inside the prehistoric cave Mangiapane di Scurati).
"Christmas in Erice – the village of nativity scenes" event: 8 December - 8 January
Custonaci Living Nativity - edition number 35: 25.25 December and 5,6,7,8 January
Living Nativity of Balata di Baida - dates being defined
Living Nativity The Bible in the Park, a transposition on the theme of the biblical passages - dates being defined
Especially for the little ones, to be noted also the VILLAGE OF SANTA CLAUS, which will animate the historic center of Marsala, the beautiful city of art famous all over the world for wine.